How can you prevent storm damage to your roof?
At this time of year, the Great British weather plays havoc with the integrity of roofing. Whether it's high winds, excessive rain or freezing temperatures, it's easy to see how storm damage can affect your roof. But is there anything you can do to help prevent issues from occurring?
Follow our top tips to protect your roof all year round.
How to check your roof for damage
Regularly checking your roof for signs of existing damage can actually prevent more from occurring. Create a checklist for yourself to cover all bases when it comes to spotting roof issues before and after hazardous weather. This includes looking for tiles or slates that appear dislodged or an old chimney stack that needs repointing.
You mustn't climb up onto your roof, so view it from the ground and loft area (e.g. are there any signs of roof leaks or damp patches?). You can then ask a contractor offering roof inspections to take a closer look for you.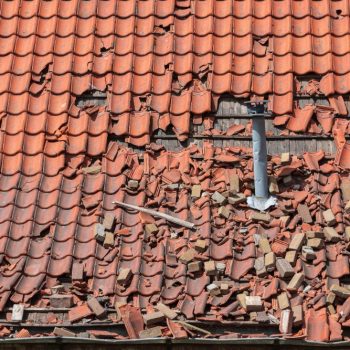 Assess the risks around your roof
Roofing sometimes becomes storm-damaged thanks to airborne debris hitting it from nearby. Therefore, always be aware of what could cause damage to your roof in the surrounding space.
This includes keeping on top of any overgrown or dead branches close to your property (if you own the land the tree sits on), putting away garden furniture in the winter and ensuring any TV satellites are securely fastened to your roof.
If you think there's a part of your neighbour's property that could affect your roofing, always speak to them about what can be done to lower the risks.
Clear your gutters
Your guttering is an integral part of your roofing system's structure and function, so looking after it is a must.
If guttering is clogged up with debris and leaves, it can cause water to overflow and cause leaks and extra strain on your roofing. This is especially true when it comes to flat roofs, which often experience water pooling issues if the drainage system isn't performing as it should.
Therefore, once or twice a year, you should have your gutters checked and cleared to help prevent storm damage to your roof.
Don't forget about outbuilding roofs
As well as your home, don't forget about any roofing protecting outbuildings such as garages, garden offices and sheds. It's often easy to neglect these areas, even though they may have quality coverings installed, such as rubber roofing.
Include outbuilding checks when asking your roofer to inspect your property and make sure you keep on top of any issues forming in these spots. After all, they often house expensive equipment, machinery and vehicles, so you wouldn't want them to become damaged or risk the security of the structure.
Storm damaged roof repairs and inspections
If you'd like to prevent your roof from storm damage, speak to Collier Roofing about what we can do to help you. We offer excellent roofing solutions across Surrey and London locations, such as Croydon, Godstone and Hooley.
To get in touch, call now on 07985 749 075 or 01737 668 934.