There are lots of different ways roofing can become damaged over the years, whether it's stormy weather or moss on tiles. But what about trees growing nearby or in your garden? With so many elements to contend with, it's important to spot some of the culprits of roof damage to help prevent roof repairs.
Trees are a vital part of our environment and should be maintained wherever possible, but it's a good idea to think about how to look after your roofing when they grow close to your property.
But can trees really damage roofs? We take a look.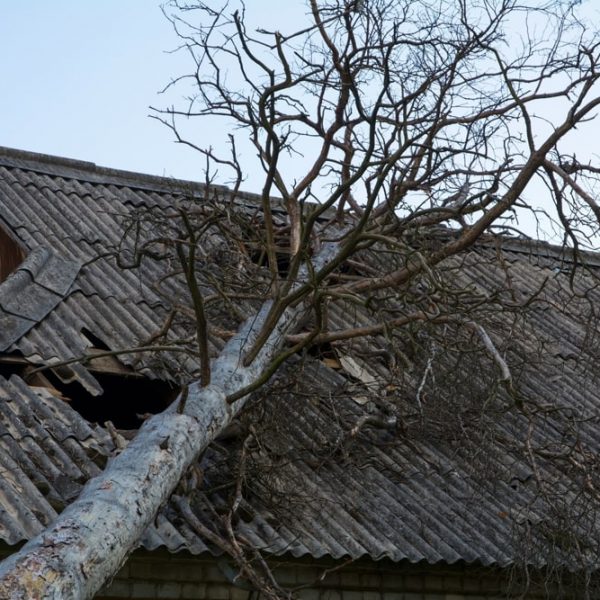 Overgrown branches & roofing
Overgrown trees can often cause problems with roofs, especially if they overhang areas closer to the ground, like flat roofs or garage roofing. For example, in windy weather, branches can damage roofs if they knock against tiles and other materials.
If any weak limbs snap off and fall onto a flat roof, the extra weight can cause structural damage and tears, especially on older roofs that might be coming to the end of their lifespan.
Leaves in gutters
If there are lots of trees in your garden or close to your property, you may want to keep a close eye on your guttering. Leaves are one of the main causes of blocked and clogged downpipes and gutters, becoming impacted when wet. This can stop rainwater from draining away effectively from your roofing.
Overflowing gutters can also result in property leaks if the water finds its way through any small cracks in your roof. That's why it's important to ensure your gutters remain clear and any minor roof works are completed regularly, stopping a more significant issue from occurring.
Bird nests on roofs
If there are trees close to your property, it may increase the chances of birds nesting on your roof. If you have any gaps in your roof, these should be repaired, or you may find birds nesting in your attic or loft space.
Bird nests in your gutters can also cause issues, blocking the path of water or leaving debris that adds more weight to the structure.
Storm damaged roofing
Fallen trees are one of the many sources of danger when stormy weather hits. This can cause havoc with our roofs. Even if the branches don't overhang a flat roof, trees can hit parts of your roofline as they fall, including gutters, fascias and soffits.
Always assess your trees each season to see if any are putting your roofing at risk. Sometimes, a simple crown reduction or pruning a few branches can create a safer environment around our properties.
Need roof repairs? Speak to Collier Roofing
Do you think your roof has been damaged in a storm or by trees around your property? Ask Collier Roofing for a roofing inspection. We give expert advice and recommendations, offering roofing services in Surrey and London locations such as Netherne-on-the-Hill and Purley.
For a free consultation and quote, get in touch today.