Cleaning fascias & soffits for the summer
Naturally, we spend more time outdoors throughout the summer months, usually relaxing in our gardens and enjoying time with family and friends. One thing that also comes with the warmer weather, however, is an increased focus on the exterior of our home. We notice where things have turned shabby – especially along the roofline.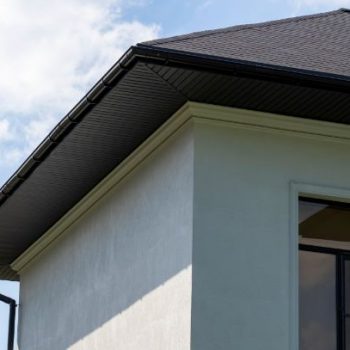 Your roofline is made up of vital elements called fascias and soffits. Fascia boards travel along the roofline of the house, facing outwards, whereas soffits are tucked between the edge of the fascia boards and the brickwork, meaning they face down.
Historically, both fascia and soffits were made from timber, and were therefore inevitably subject to eventual rot. That's why UPVC fascias and soffits are a popular choice for new builds and roofing replacements, due to the long lifespan and ease of cleaning.
How to clean UPVC fascias and soffits
When it comes to cleaning your UPVC fascias and soffits, there are some strict dos and don'ts, which include:
Don't ever use bleach or white spirits to clean UPVC as this will cause damage
Don't use anything abrasive, such as Scotchbrite, that could scratch the surface
Do use a soft cloth and a specialised UPVC cleaning solution
If in doubt, do use warm soapy water or even baby wipes
Do clean your roofline (or have it professionally cleaned) every two to three years to prevent mould or discolouration
Do use a trusted and reputable company for professional roofline cleaning
Wooden roofline replacements
If you live in an older property, it's likely to have wooden roofline elements that might now have cracked, flaking paint, and underlying rot problems. Unfortunately, despite its beautiful appearance, wood can swell and is more susceptible to other issues, such as fire and damp.
By replacing your wooden roofline with UPVC, you'll enjoy absolute ease of cleaning and peace of mind when it comes to lifespan and function. If you prefer the wooden look to any other alternative, you can also get wood-grain effect fascia and soffits.
Low hassle & high-quality roofline installations
When it comes to UPVC fascias and soffits in London and Surrey, Collier Roofing are the unrivalled experts. With decades of experience in the installation and replacement of roofline features, our qualified and expert contractors bring conscientious workmanship and attention to detail that will transform your property's exterior.
If you'd like to get a free quote for your soffits and fascia maintenance, installation or replacement, contact us on 07985749075. Alternatively, you can find out more about upgrading your roofline here.