When it comes to any kind of structure, whether that structure is a house, a skyscraper, barn or garden shed, the roof is an essential element that will need maintenance, care, and attention.
The job of a roof is to protect the structure from the elements and ensure that any rainwater, snow, and ice melt can drain off the building without causing any damage to the structure and whatever is inside.
With commercial, industrial, and private roofing systems, there is no room for mistakes with regards to structural integrity and roof performance. Any failure to repair or maintain the roof can result in leaks, damage, and exposure to the elements.
This is where roofing surveys come in.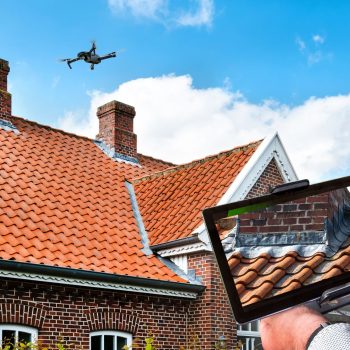 Roof surveys explained
A roof survey is a type of inspection that will be carried out by a professional roofer to determine the condition of your roofing system and identify any potential problems.
Roofing professionals will often use a range of different methods to carry out the inspection, ranging from using cameras, mobile elevation platforms, drones, taking samples, to using thermal technology, electronic probes, and moisture detectors.
Why should you have a roof survey carried out?
Having a roof survey carried out will help in cases where you suspect there is an issue with your roof. It will highlight any issues with ponding water, leaks or water ingresses, points of failure, and any wear and tear that has already occurred.
A roofing survey aims to detect these issues before they become major threats to your home or building. So, rather than delay getting a roof survey carried out, it's always best to nip worries in the bud before they escalate into something more serious, time-consuming, and – unfortunately – costly
Benefits of having a roof survey carried out
Aside from giving you complete peace of mind as to what is going on with your roof, there are several benefits to having a roof survey carried out. These include:
Avoiding a costly bill: Spotting any potential issues with your roof early on will avoid the need for costly repairs and substantial overhauls, such as an entire roof replacement.
Decision making: In other instances, such as where you have a roof survey carried out on a building you're looking to purchase, you'll be able to decide based on all the facts.
Timely repairs: You'll potentially avoid total disasters, ensuring that any issues are fixed with plenty of time to spare.
Your insurers will thank you: Having regular professional maintenance and any surveys carried out will stand you in good stead with your insurers should anything go wrong and you need to make an insurance claim.
Domestic & commercial roof surveys in Surrey and the surrounds
Collier Roofing is a well-established Surrey roofing firm with decades of experience. Thanks to our unrivalled expertise, we are able to provide a personal 10-year written guarantee, with 20 years on selected materials. With various industry approvals and a wide range of case studies that back-up our standard of work, we are proud to provide a stellar service every single time.
Our expert Surrey roofing contractors are on hand in the areas of Westerham, Merstham, and beyond to provide both domestic and commercial roof surveys that will put your mind at ease.
Collier Roofing offers free inspections and fixed price, no obligation quotes with no deposit needed. To get an estimate today or ask our advice on your roofing project, call us on 07985 749075.