What causes chimneys to crumble?
Whether it's fixing broken gutters or replacing missing tiles, keeping on top of roofing work ensures minor issues don't become bigger over time. While chimneys make a beautiful feature for any property, they also require maintenance to remain stable, safe and in good working condition if you have active fireplaces.
But what causes chimneys to crumble? Here are some of the most common reasons for encountering problems with your roof's chimney stack.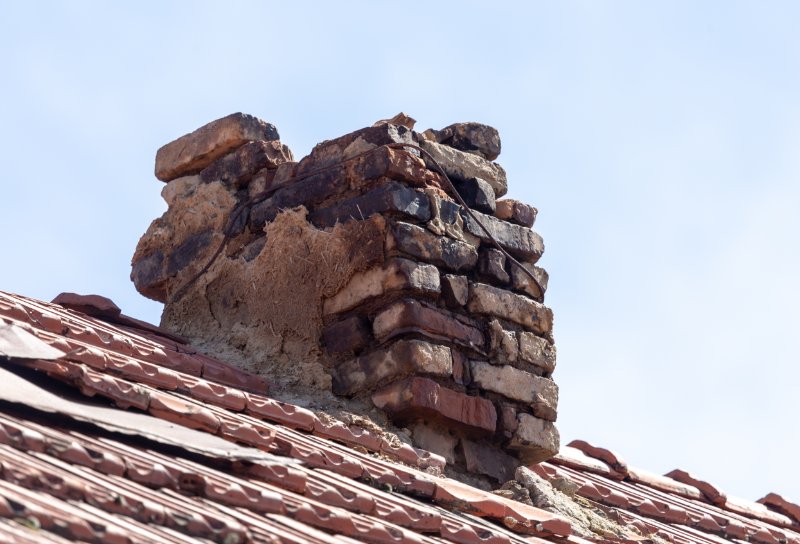 Wear & tear
All roofs experience wear and tear over time after being battered by the elements, and older materials will often start to degrade. Chimneys consist of multiple features, including bricks, mortar and capping, so any disintegration can cause instability to the masonry. That's why it's so important to maintain your roof each year.
During an inspection, your roofer will let you know if any repairs are needed and things you should keep an eye on, such as disintegrating mortar joints around the chimney stack. Chimney repointing is one of the most common types of roof repairs requested.
Weather conditions
Chimneys can begin to crumble in harsh weather conditions all year round. This includes lightning strikes, strong winds and gales, heavy rainfall, ice, hail and even heatwaves.
Small cracks are often made worse if water freezes and expands in the gaps in icy conditions. This results in further issues, such as roof leaks if water makes its way into the internal roofing area. Cracks can also trigger significant problems for the safety and structural stability of the chimney.
Storm damaged roofs cost homeowners a lot of money to repair each year, so ensuring your chimney is well maintained is a must before any bad weather hits.
Building movement
Buildings may seem firmly set in the ground, but various factors can result in property movement. This could cause more crumbling to occur in vulnerable spots, such as chimney stacks. This doesn't just affect older buildings, as even new build properties have to settle in on their foundations.
Some properties can also experience roofing issues if major building works are happening around the site or overgrown tree roots are compromising the ground stability.
What to do if your chimney needs repairs
If you've spotted the signs your chimney stack needs repairing, don't hesitate to contact your local roofing company. This includes anything suspicious you've spotted, such as broken bricks or damp patches around your fireplace.
Never attempt to climb onto your roof without the proper training and safety equipment, or you could cause harm to yourself, others and your roofing.
Contact your local roofer
At Collier Roofing, we're qualified roofers, carrying out inspections, repairs and specialist chimney stack maintenance services. We provide repointing, rendering, dismantling, lead flashing installations and chimney pot capping solutions.
We offer our roofing services across London, Surrey and surrounding areas, including Woldingham and Reigate. To arrange a chimney inspection, please call us now on 01737 668 934 or 07985 749 075.