Having a loft conversion? Don't forget to get your roof inspected
With house prices continuing to rise throughout the UK, many people are working on their existing properties, choosing to extend out – or up. Whether you're looking to add to your family, increase the value of your home, or simply free up some extra space to pursue new hobbies, a loft conversion will give you the space that you need.
However, there are a few hurdles you'll need to overcome before you can get stuck into converting your loft, due to the varying nature of existing loft spaces and roof pitches throughout the UK.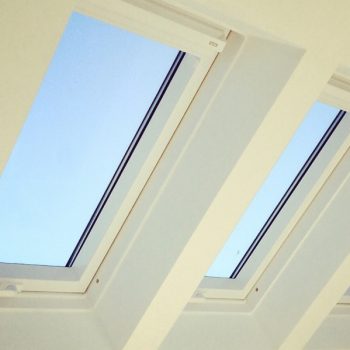 Can my loft be converted?
If you already have a large loft space, you might think that you can just push on with the conversion, but there are several factors that will dictate whether it's possible. These include:
Available head height: Measured from the top of the floor joists up to the underside of the ridge beam, building regulations stipulate that there should be a head height of 2.2m. (Although the exact head height you opt for will depend on how tall you and your loved ones are!)
The existing roof pitch: A shallow roof pitch is likely to make your loft conversion a bit trickier. Angles above 30 degrees tend to work best and offer a more comfortable head height.
The type of roof: Depending on when your property was built, it will have either a cut roof or trussed roof. You'll need to work with an architect and a structural engineer to ensure that your conversion isn't going to affect the supporting structure of the roof – something which is hugely important to prevent damage to your home.
What is already in your loft: If your loft is already home to something like a chimney stack or water tank, you'll likely need to move them to make space. Water tanks can be easily located or swapped out for a more modern and convenient combination boiler, but chimney stacks and any shared neighbouring walls will require more work to comply with regulations.
Space for a staircase: Just like the level of the loft itself, your staircase is subject to head height requirements too. By choosing to work with an expert architect and structural engineer, you should be able to work around this.
Why do I need a roof inspection for my loft conversion?
You'll need a roof inspection prior to your loft conversion because the existing structure, shape, and state of your roof will dictate what you're able to do in terms of converting your loft. There are five main loft conversion types used in the UK and these are known as dormer, mansard, roof light, hip to gable, and modular loft conversions.
Your exact style of loft conversion will be down to many different factors, including budget, planning permission, where you live, what architect you choose to work with, and what your roof is currently like.
However, having a roof inspection carried out by a trusted roofing contractor will allow you to have a good idea of what you're working with.
Most reputable, trustworthy roofing companies will provide a free roof inspection so you can get the answers you need without it costing you large amounts of money.
Expert roof inspection services in Surrey
Here at Collier Roofing, we work throughout Surrey to provide both specialist and general services to domestic and commercial clients. Operating throughout the county, we work on flat, pitched, and new roofs to deliver an outstanding service in areas such as Coulsdon and West Wickham.
When it comes to roof inspections, we provide a bespoke service tailored to your exact needs, based on the size, scale, and needs of your roof. If you'd like to obtain a free, no-obligation quote for your loft conversion roof inspection, get in touch with us today on 01737 668 934 or 07985 749075.